My first, favorite blog-hop, which I have been too late for:
hehehe, i was too late today as well. by the time i cut this, pasted that, remembered where to put it, etc., the hop was closed! Okay, I'll try to join another one real fast.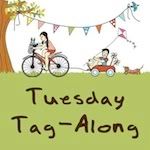 That's okay I was too late for Tuesday Tag-Along, but the picture is cute so i will leave it and will try earlier.
I made it to this one in time:
Secondly, thank you to all my friends who have clicked the "Like" button for dj Goddessa's FaceBook page. I really appreciate your support and will try to continue to find and share the beauty.
Love,
Me